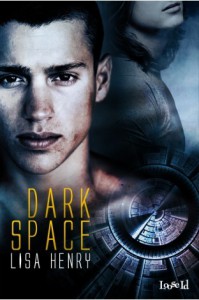 4.5 stars glowing in the black void of of space
I don't read sci fi. Apparently, however, I do give in to peer pressure, because after some gentle prodding, there I was doing a BR with Catherine of a book most everyone loved but I had no real interest in reading. Damn it, though, I am glad I did.
I couldn't believe the level of suspense in this book. I was on edge from almost the start waiting for the imminent alien attack. Lisa Henry's ability to sustain that level of anxiety in Brady, and correspondingly the reader, without it getting old was impressive.
I also loved the relationship between Brady and Cameron. The shared heartbeat and the shared thoughts created an amazing story of connections and need and love. And all that time they
had to
spend in bed together? Mmmmm.
My only complaint was that the sequence at the end of the when the Faceless finally show up did not seem fully developed and I did not quite get how or why Cameron and Brady were reunited.
Sometimes when I start reading in an unfamiliar genre I find that there is a learning curve. Here if there were sci fi sub-texts that I missed, I didn't notice or it didn't matter. I never felt like I was missing something because of my lack of exposure. So to all of you who don't read sci fi but have had your eye on this book, don't be deterred!
Looking forward to the rumored book 2 TBP.